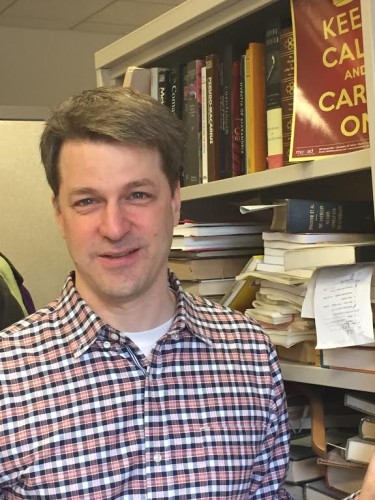 I'm Humanities Research Services Librarian at Columbia University. As such I do many things, including: collection development for German studies (literature and history) and for philosophy; liaison work with the departments of History, German, Philosophy, Art History and Music; library instruction classes for liaison departments as well as for the First Year Writing program and other programs; working with faculty, students, and colleagues on digital projects, among (many) other things.
I'm also a historian and I teach modern European history as an adjunct professor in the McGhee Division of New York University's School of Professional Studies. My scholarship in history has focused on early 20th century German nationalism and national identity.
I write and present on topics in critical information literacy, critical librarianship, the history of academic librarianship, and modern German history. My current projects include a study of German academic librarians in mid-20th century Germany and a cultural history of fin de siècle Europe.
Before coming to Columbia I was an Assistant Professor and Instruction Librarian at New York City College of Technology, CUNY. While at City Tech I served as Vice President/President-Elect of the Library Association of the City University of New York (LACUNY). I organized the 2014 LACUNY Institute around the theme of critical information literacy. Before that I worked as a reference librarian at New York University.
Before becoming a librarian I taught modern European history, world history, and even some American history at a wide variety of colleges and universities. This experience gave me first-hand experience of the wide gulfs and gaps in American academia in terms of access, privileges, property, wealth, attitudes, and opportunities. This experience continues to inform my work as a librarian and teacher.
For me librarianship has the most meaning when placed in its larger contexts: social, political, economic, and cultural. What this means is that I try to always connect what I do as a librarian to the issues that affect our lives, both professional and personal. More specifically, I'm interested in better understanding the various ways that patriarchy, white supremacy, and capitalism influence and structure the ways that library practice is determined.
I'm a native New Yorker (although I did grow up in the northern suburbs). Since graduating college, I haven't really been able to live contentedly anywhere outside of Manhattan Island, though as time goes on the Pacific Northwest is looking more and more inviting.
I hold a PhD in modern European history from Columbia University, an MSIS from the University at Albany, and a BA in German and History from the University of Michigan.