In Brief: The library community should develop a philosophy of librarianship. In order to do so the community should engage in a dialogue about what we do and why we do it. Our history with the idea of a philosophy of librarianship is long, yet the library community hasn't resolved the problem of what that philosophy (or philosophies) should be. Engaging in a reflective and philosophically-based practice of librarianship (a praxis of librarianship), one that frames decision-making and library work with the question: "what we do and why we do it?" will enable the library community to have successful conversations with those they serve. As a result, librarians will be invited to participate in important community decision-making efforts, and be able to further impact communities.
By Emily Ford
Introduction
It was a Big Deal. School librarians, in particular, were furious. When the New York Times published the article, Wasting Time is New Divide in Digital Era, listservs, blogs, Facebook, and Twitter lit up with librarians' wrath. There was outcry and anger and hurt. The news was out that the Federal Communications Commission (FCC) was going to spend $200 million dollars to create a "digital literacy corps" in the form of a project called Connect2Compete.
Media Specialist Fran Bullington (2012) posted the following on her blog, Informania:
"Looks like the FCC has no idea that our schools have a ready-made "digital literacy corps" in place.
Chairman Julius Genachowski was quoted in the article.  He recognizes the importance of digital literacy, but he is ill-informed. He does not know that there are already trained professionals in many schools who work, against great odds at times, to train our students and who volunteer to teach parents these skills.
Let's not let him claim ignorance before spending this money."
Unfortunately, discussions such as this are not unique. Librarians are constantly explaining what they do (and what they can do) to their communities.1
Discussions similar to those surrounding the FCC debacle present themselves in small communities, within institutions, county and city governments. Librarians are absent from the table during important discussions when their expertise could be used. It's possible that librarians don't put themselves at the table, or institutions like the FCC don't think to invite librarians to participate. In the end the result is the same. Librarians have lower visibility and powerful decisions are made without librarians. These decisions could be improved with librarian input from the get go.
More and more, public discussions regarding libraries and librarians have surfaced into the public sphere. Each time there is a ballot measure, each time budgets are slashed, each time librarians lose jobs, the library community must articulate its value, to prove that it is worth current investment, and to fight for greater financial and social investments in the future. The cuts keep happening in institutional, city, and county budgets. Libraries and schools lose valuable professionals, or are made to deal with budgets that have gone from bad to worse. In this environment, libraries, librarians, and their advocates are faced with tracking, documenting, substantiating, and articulating their value.
Value has been a hot topic for libraries for a while. In 2010, ACRL published LIS professor Megan Oakleaf's study The Value of Academic Libraries, which outlined recommendations for academic libraries and librarians to further perceptions of value. These recommendations, by and large, focus on gathering data via assessment to track and show evidence of academic libraries' value to their communities.
Similarly, the American Library Association's Council recently passed a resolution in support of school libraries. Typical of value statements and documents, the resolution discusses evidence that school libraries and librarians have positive effects on student learning. For school librarians in Beaverton, Oregon, this resolution and the numerous discussions with the school board did not work; every teacher librarian has been cut from the district. Another example of value failing was published in Working Together: Evolving value for academic libraries, a SAGE study released in June that "found no systematic evidence of the value of academic libraries for teaching and research staff" (Creaser & Spezi, 2012, p. 1).
Despite the talk about value and impact, despite the resolutions and reports, jobs are getting cut, the FCC is working on Connect2Compete with some (but in many people's opinions not enough) involvement by libraries, and librarians, and library advocates are left to assert what we do and what impacts we make until we are blue in the face. Either we are too busy 'articulating our value' to ourselves and not enough to external stakeholders, or our messages aren't compelling enough to get results.
My aim here is not to contribute to the groundswell of victim rhetoric that surrounds the de-funding and de-professionalization of librarianship. Instead, I aim to shine a light on what I think is happening. Namely, we haven't yet sussed out the philosophy behind what it is that we do.
Our conversations aren't working because our language isn't working. Our language isn't working because our day-to-day thinking isn't working. We should be engaging in a different conversation with ourselves and our community of library workers. We should individually and collectively reflect on the question: What do we do and why do we do it?
When we're able to successfully engage in this dialogue we will be able to transform our practice of librarianship into a praxis2 of librarianship. As a result, our conversations with external stakeholders will include deeper meaning and will have greater impact on our communities.
In the rest of this article I will discuss historical and current conversations regarding what we do and why we do it. Then I will discuss our problems with language and make a case for how and why librarians should develop a praxis of librarianship.
A Philosophy of Librarianship
So how did we get to this crossroads? We currently communicate with our communities in a rapidly evolving information landscape. This landscape further necessitates our external conversations to focus on what librarians bring to their communities and the impacts we have on them. Despite the current tenor of these conversations, our internal dialogue regarding the philosophy of librarianship (i.e. what do we do and why do we do it) is not new. It goes back to the early 1900s, and possibly earlier.3
In 1934, James Periam Danton published "A Plea for a Philosophy of Librarianship" in The Library Quarterly, in which the author asks that librarians engage in philosophical exercise to the end of creating a philosophy of life and subsequently, a philosophy of librarianship. Many of Danton's readers, and certainly Lead Pipe readers, may argue that S.R. Ranganathan's Five Laws of Library Science addresses a philosophy of librarianship. However, Danton dismisses this seminal work:
"But this treatise, as stimulating and interesting as it undoubtedly is, does not attempt to define the functions of library activity on any other basis than that of present-day good library service; the discussion is not an open-minded enquiry into the validity of functions and activities. Most of it is, furthermore, limited to public-library work." (p. 532)
Danton concludes that any philosophy of librarianship should and must be "derived from the predominating ideals of that society. Consequently, before a library philosophy can be formulated, there must be an understanding and recognition of the ideals and purposes of the society into which that philosophy must fit" (p. 547). Although Danton did not himself offer any concrete philosophy, he asserted that any philosophy of librarianship would be a social philosophy that ties the library to its roots in democratic society.
This conversation has continued throughout The Library Quarterly's publication history. More recently, in the late 1990s, another conversation regarding philosophy emerged. In his article, "We Don't Need a Philosophy of Library and Information Science: We're Confused Enough Already," Jim Zwadlo (1997) addressed contemporary LIS literature in which positivism and reductionism were framed as a troublesome foundations for and practices of library science methods. In response, Gary Radford and John Budd (1997) reflected on Zwadlo's assertions, concluding their comments with:  "…we loudly advocate that we do need a philosophy of library and information science; we are not confused enough!" (p. 321).
Zwadlo (1998) responded, slinging around concepts of positivism and epistemology. "Do Radford and Budd want to replace positivism with another philosophy? Or do they want us to see all philosophies as useful, as all having something to offer? Perhaps we are quibbling over the term 'alternative' and do not really disagree" (p. 115).
Even ten years later (in 2008), when Dr. Robert Labaree (Head of the USC Von KleinSmid center Library for International and Public Affairs) and Ross Scimeca (Head of the USC Hoose Philosophy Library) published "The Philosophical Problem of Truth in Librarianship" the discussion continued. Right on the heels of this publication, in 2009, came Library Juice Press's release of Andre Cossette's 1976 French essay,  Humanism and Libraries: An Essay on the Philosophy of Librarianship.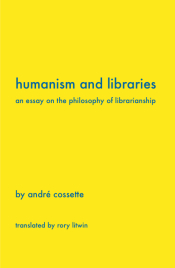 In his introduction, translator, publisher and librarian Rory Litwin addresses potential reader questions such as "Why should American librarians be interested in a philosophical treatment of the foundations of the profession…?" (p. ix).
Litwin explains:
"Sound ideas about what librarianship is and what its goals are permit us to claim a degree of autonomy in institutions where we might otherwise serve as mere functionaries rather than as the professionals we are. Without a philosophical foundation, we lack a basis for making decisions regarding how to change our institutions in response to external forces, with the potential result that we do not play the role that we should in decision-making." (p. ix-x).
This explanation mirrors the arguments outlined by Danton, Cossette, Budd, Labaree and Scimeca. At the risk of overgeneralizing, each of these authors point to philosophy as a practice that allows for external recognition of the library's role in society and institutions, strengthens the esteem of librarians and the profession, and encourages a reflective and intentional practice of librarianship.
Despite this 80+ year old conversation, and the seeming agreement as to why and how a philosophy of librarianship would serve the profession, librarians and librarianship do not coalesce around a philosophy of librarianship. And perhaps this is not without good reason.
Our Librarian Identity Crises
We continue to struggle with the philosophy of librarianship in the 21st century even though the idea permeates our profession's history. In the recent past, numerous individual librarians have written to grapple with what we do and who we are.  A good example is Lane Wilkinson, an academic librarian with a Master's in Philosophy, who asked (and answered) whether librarians were experts in a two-part blog post series over at Sense and Reference. In the day and age when technological advancement has challenged how we perceive what librarians do, we seem to be asking: What is a librarian?4
One of the problems that we face when it comes to finding a philosophy of librarianship, and likewise articulating our impact to communities, is that the umbrella of librarianship is gigantic. Librarian. When you begin to think about it, the word doesn't mean anything, because it means too many things. Librarians are teachers and collectors and advocates and searchers and researchers and… Sound familiar?
In 2010 In the Library with the Lead Pipe published a slew of articles that discussed what we do. In June 2010 Kim Leeder, fellow co-founder, editor, and author for Lead Pipe was searching for her identity and the "real work" of librarianship. Following Kim's article, Char Booth, librarian, blogger, and author, argued that librarians are shapeshifters who can show up opportunistically to be on the periphery of communities and conversations, and I lamented losing my librarian mojo.
In contrast to Booth, Cossette argued that librarians should frame themselves outside of the paradigm of our overarching institutions. He did not see librarians as educators or teachers, nor did he see them as scientists, but simply as Librarians. Furthering his argument, he points to the need for "librarian" to be defined and for the purpose or aim of libraries to be outlined.
In 2009 John Blyberg, Cindi Trainor, and Kathryn Greenhill (all three library workers and bloggers) composed and endorsed The Darien Statements on the Library and Librarians. These statements are an attempt to get at the bigger picture identity of the library and librarians; a potential answer to the question, "What do we do and what do we value?" The Statements outline the purpose of the library, in addition to outlining the role of the librarian within that purpose. Like Cossette, The Darien Statements point to the possible (and arguably, inherent) tension between libraries and the institutions or organizations in which they may be housed, although they do not go so far as to assert that the library is the same with or without an institution. "Individual libraries serve the mission of their parent institution or governing body, but the purpose of the Library overrides that mission when the two come into conflict." Moreover, The Darien Statements aptly outline the purpose of the library, and separates the roles that libraries and librarians play in this paradigm.
There is certainly no lack of evidence that librarians are grappling with these questions. Another example is David Rothman's 2011 manifesto, Common Sense Librarianship, wherein he discusses some basic qualities of information professionals. "The most important qualities an information professional can possess are adaptability, resourcefulness, a habit of looking for better/easier/more efficient ways to do things, creativity, and a love for solving problems." Further, Rothman states that librarians should: "…adapt rather than perish" and "Information professionals should be champions of clarity and concision who find accessible ways to describe complex topics."
Most recently, R. David Lankes, LIS Professor and library futurist, published The Atlas of New Librarianship (2011) wherein he created a knowledge map of the profession, placing the Mission of librarians at the center. "The mission of librarians is to improve society through facilitating knowledge creation in their communities" (p. 13). Lankes argues that it is not a building that makes a library a library, but it is a Librarian that makes a library. "I have long contended that a room full of books is simply a closet but that an empty room with a librarian in it is a library" (p. 16). Lankes' mission and resulting worldview of new librarianship enables librarians to create new social compacts with their communities, Lankes argues. It is these social compacts (that communities support librarians as long as librarians hold up their part of the bargain: to improve society by facilitating knowledge creation in their communities) that enable librarians and libraries to have meaningful conversations about the impacts and value they bring to their communities.
While Cossette offers definitions and aims for librarianship, contemporary works such as The Darien Statements and The Atlas of New Librarianship are more applicable for a current understanding and introspective practices of librarianship.
As evidenced by this handful of examples, the library profession is lacking consistent thinking and messaging about what it is that we do and who we are. Some definitions such as The Darien Statements spell out the mission of both the library and librarians, whereas others are concerned mostly with the Librarian.
It's a Language Problem: Value vs. Philosophy
The language problems don't end or begin with questions of the Librarian. There exists a complex disconnect in language between libraries, librarians, and librarianship. This becomes further complicated when we discuss the value of libraries and librarians. One need only think back to conversations about "articulating value" and be reminded of documents such as the Value of Academic Libraries report or ALA resolution I mentioned earlier. We've been trying for so long to discuss our value that the philosophy of librarianship hasn't entered into discussions about our impact on communities.
We struggle with the difference between value and philosophy, so I think it is important to analyze, ever briefly, the differences. A basic philological investigation helps. The Oxford English Dictionary offers a good definition of philosophy: "The study of the general principles of a particular subject, phenomenon, or field of inquiry" (OED Online, 2012).
Definitions of "value," on the other hand, discusses the worth, sum, or merit of work. It is inherently quantifiable, assessable, and deliverable. Whereas, "values," (with an S) insinuates "principles or moral standards."
Naturally, questions of philosophy delve deeper into meaning than the question of what value libraries bring to communities and what are librarianship's shared principles. Rather, the word "philosophy" implies that one engages in introspection, quiet study, and open discourse. It is about periodically examining why it is that we do what we do.
Similar to this measurable vs. questioning stance, Cossette examines measurable science versus the introspective philosophy. Basing his questioning in Danton's claims, Cossette approaches this question as Science vs. Philosophy (p. 7). He stresses that where science answers the "how," philosophy answers the "why." Why librarians?
In The Value of Academic Libraries Megan Oakleaf (2010) suggests that librarians "…need to collect new and different data" (p. 95) in addition to gathering existing data. She further develops this argument, showcasing how librarians might capture new data using existing products or developing new data collection products (pp. 95-96). In essence, the document itself points to how academic libraries and the librarians within them support their institutions. Any philosophical question framed in the document, returns to the question of how, rather than why. Concluding the report's short section on "Societal Contribution" Oakleaf writes:
"Academic library contributions to society have not been widely identified or researched. However, once librarians know more about how they contribute to the primary areas of institutional missions—learning, research, and service—they can use the lessons they learn to assess the societal value of those contributions." (p. 56).
Oakleaf herself shows our weakness—the lack of research or identification of our societal contributions. In essence, she demonstrates that the "why" hasn't been adequately addressed.
This tension between the how and why is difficult. While funders may want to hear numbers and facts, would not a story about why we loan materials, teach digital literacy skills, or facilitate conversations in communities not have the same effect? How can we enhance the numbers with more robust language that speaks to why we do what we do?
It's a Language Problem: Messaging and Catchphrases
Librarians don't have a catchphrase, or not a good one, anyway. Doctors abide by the Hippocratic Oath: "first do no harm." Police Officers "protect and serve." These are universally identifiable phrases affiliated with the identity, purpose, and underlying philosophy of two very disparate professions. These are oaths or statements of practice, which are discrete and recognizable by the public at large. Herein lays the problem for librarians. What succinct and meaningful phrase do we have that will resonate with the public at large?
It's not for lack of attempt, however. Cossette outlined the following: "Librarianship is the art and science of the acquisition, preservation, organization, and retrieval of written and audiovisual records with the aim of assuring a maximum of information access for the human community." (p. 33). But I can't imagine that this definition resonates with anyone outside of librarianship. Similarly, values statements such as the ALA Office of Intellectual Freedom's Core Values of Librarianship, The Darien Statements, ALA's Library Bill of Rights, ALA's Motto: "The best reading, for the largest number, at the least cost,"5 and other 'why librarians are important' documents have not been able to make meaning for the public at large of librarians' purpose and role in society.
We're good at talking to one another and knowing what each other is saying. We have terms like information literacy, resource description, and information retrieval. But we can't expect the general public to have a clue what any of those aforementioned phrases mean.
I don't know that there is a good motto. At best, the catchphrases and mottos that we can craft are nebulous in meaning. At the 2012 Annual Oregon Library Association Conference, a colleague and I led a book discussion of Cossette's work. In the discussion we tried to define a mission or motto for librarianship. Here's what we came up with: "Librarians are facilitating for everyone the lifelong development and experience of human knowledge, culture, and discourse" (Participants of Humanism & Libraries: A book discussion, personal communication, April 27, 2012).
So how do we get the language to work? How do we work toward cohesive, clear, and succinct messaging to the public? I don't think we can yet. We haven't collectively been doing enough of the work to get there. Before we can begin to craft meaningful statements, we will need to continue to engage with the study of our profession philosophically. We will need to understand our personal practice of librarianship so that we can, in turn, translate it into meaningful conversations with our communities.
Librarianship is a Multi-faceted Profession
Zwadlo was right, we are incredibly confused. He asserted that confusion could be harnessed as a useful way to get things done—that confusion can aid librarians in creative thinking and problem solving. And I'm not sure that, despite many authors who are in agreement regarding the need for a philosophy, coming up with one unified philosophy of librarianship will ultimately serve the profession.
The fact is the breadth of librarianship is so vast that one unified philosophy couldn't possibly capture the enormity of impact we bring our communities. Our umbrella is just too big and our communities too diverse. Cossette also points to the vast array of work librarians perform, from serving within elementary and higher educational institutions, to public libraries, archives, and preservation of human knowledge.6
So if finding and agreeing upon one unified philosophy of librarianship poses so many challenges, what can we do instead?
From Practice to Praxis
Instead of searching for a unified philosophy of librarianship, we should move from having a practice of librarianship to a praxis of librarianship.
In our long history of debate regarding a philosophy of librarianship, there are common threads in the discussion. From Danton in 1934 to Lankes in 2011 it is clear that librarianship should be a reflective and intentional practice.
"The philosophy of librarianship, then, is the theoretical integration of library practice as a unity, the encompassing understanding of the meaning of the profession. Through a method that is at once critical and reflective, it attempts to form a synthetic whole out of the disparate facets of librarianship to better direct its application." (Cossette, p. 9).
 To cultivate praxis is to remain curious about our practice and engage with it. It is to want to know internally and externally what is changing and what is steadfast in our profession. It is to think critically about our greater purpose and current goals when we make decisions. Praxis brings philosophical underpinnings to our daily routines and professional decision-making.
On a day-to-day level moving from practice to praxis will mean a shift in thinking. For example, during discussions and decision-making processes we may consider moving from one vendor to another. In practice we may choose to partner with a vendor whose pricing better reflects our budgetary constraints. In praxis, we may choose to partner with a vendor whose mission better aligns with our own, despite higher pricing. This seems simple enough. However, praxis manifests in the process of decision-making, not in the end result. To come to this decision, this fictional team of librarians had to weigh their options through a critical lens. They did not ask themselves, "What is our budgetary bottom line?" Instead, they asked themselves, "how will this decision/vendor align with our mission and goals?" Had these librarians not critically engaged with why they do what they do, they most likely would have partnered with a vendor with lower pricing.
When every library worker engages daily with the question, "what do I do and why do I do it?" we will be better situated to have meaningful conversations with one another. We will be able to better articulate amongst ourselves our goals and our missions. We will have a deeper understanding of the societal benefit we provide and we will better position ourselves when external conversations occur. Maybe, just maybe, we'll be able to find common ground for a motto or phrase that perfectly identifies what it is that we do and why we do it.
A praxis of librarianship should be a daily and meditative exercise interwoven with our reference work, collection development, programming, teaching, and research. It is a way of being.
Conclusion
So why is the FCC putting so much money toward a Digital Literacy Corps without enough involvement from the library community? Because we don't have the tradition of being engaged in a philosophical praxis of librarianship. Having a habit of thinking deeply and critically about what it is that we do and why we do it, on a large scale, would enable and empower us to create good language and hopefully, in turn, to influence on a large scale the perception and understanding of librarians' value to and impact on society.
Repeatedly explaining librarians' functions in society is a death march. According to Lankes, "Over time, functional views don't and can't capture the dynamic nature of the world. What's more, they tend to lead to stagnation and the inability to adapt" (p. 21). Instead of having conversations about librarians' function and value, we should have conversations about the why. Why we do what we do. Why, from a philosophical viewpoint, our work matters.
A first step in responding to any "crisis" or challenge in the profession—such as the FCC's project that only nominally notices librarians; the issue of ebooks that Brett Bonfield, Lead Pipe co-founder and author so wonderfully discussed in The Ebook Cargo Cult; the elimination of budgets and jobs and de-professionalization that occurs with retirements—is to engage in a praxis of librarianship. As Lankes (2011) argues "…the very definition of our field, its perception, and its ultimate effect are in the hands of librarians–our hands" (p. 1). All library workers should be engaged in a praxis of librarianship. And it's never too late to start.
The heavy lifting for this has already been done. Lankes's Atlas, The Darien Statements, articles written by scholars in librarianship in the 1930s through to today, have lent themselves to a rich discourse on philosophy. If you haven't engaged with philosophy, if your library practice hasn't crossed the bridge from practice to praxis, read The Darien Statements. Read The Atlas of New Librarianship. Begin your praxis of librarianship from these standpoints. And begin to reflect. Every day.
---
Thank yous go out to: Kathryn Greenhill, Nathan Mealey, and John Jackson for their incredible input and ability to ask provocative questions. Additional thanks to Lead Pipers Erin Dorney and Eric Frierson for feedback on this post; and thanks to Brett Bonfield, Kim Leeder, and Ellie Collier, who listened to me ramble about this topic while trying to gather my thoughts.
References