In Brief: This article discusses the creation, philosophy, and future directions of the Innovation in Libraries Awesome Foundation Chapter, a grassroots crowdfunding initiative incubated within Library Pipeline.
On May 1st, The Innovation in Libraries Awesome Foundation Chapter will distribute its monthly call for grant applications across a global network.
On May 15th, The Innovation in Libraries Awesome Foundation Chapter will close its call for grant applications.
Between May 16th and May 30th, The Innovation in Libraries Awesome Foundation Chapter trustees will read, debate, build consensus, and ultimately vote on a winning project.
On May 31st, the Innovation in Libraries Awesome Foundation Chapter will announce the winning project.
This cycle will repeat every month through September.
What We Are & What We Fund
The Innovation in Libraries micro-grant initiative is a community-funded effort that follows on the Awesome Foundation's model: the grant brings together a group of trustees who make or direct a monthly personal contribution of $50 USD, for an aggregate of $1000 USD, to collectively fund one project per month.
The trustees who fund and select the grant awardees were carefully recruited by members of Library Pipeline from around the world, and across the spectrum of librarianship, with an aim to create a funding body that would support innovation in all its diversity. To prevent financial constraints creating a barrier to participation, recruited trustees have the option of directly funding their own seat or requesting financial sponsorship for their monthly contribution. We gratefully acknowledge the generosity of our sponsors, whose funding has made it possible for librarians from all walks of life to serve as trustees. Though several of our financial sponsors comprise the Advisory Board of Library Pipeline, many individuals chose to donate to the initiative anonymously.
Throughout the pilot period, ending with a final granted project in September 2017, grant applications are accepted from the first through the fifteenth of each month.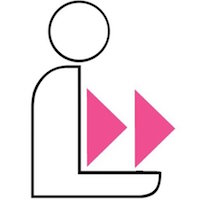 Trustees then discuss, vote, and fund one innovative library project in that month. Through this model, the Innovation in Libraries Awesome Foundation Chapter provides a catalyst for prototyping both technical and non-technical library innovations that embody the principles of diversity, inclusivity, creativity, and risk-taking. In March, for example, the trustees funded a collaborative project between the Summit Public Library and The Warehouse Project & Gallery entitled 100 Years…100 Selfies!
Who We Are
This initiative was spearheaded by Bonnie Tijerina, Robin Champieux, and well…us—Joshua Finnell and Stacy Konkiel—and we serve as the deans of the chapter. Incorporating the principles of diversity and inclusivity into its formation, the chapter is purposefully assembled from a global cohort of librarians, with a range of experiences and backgrounds across public, academic, nonprofit, and corporate librarianship.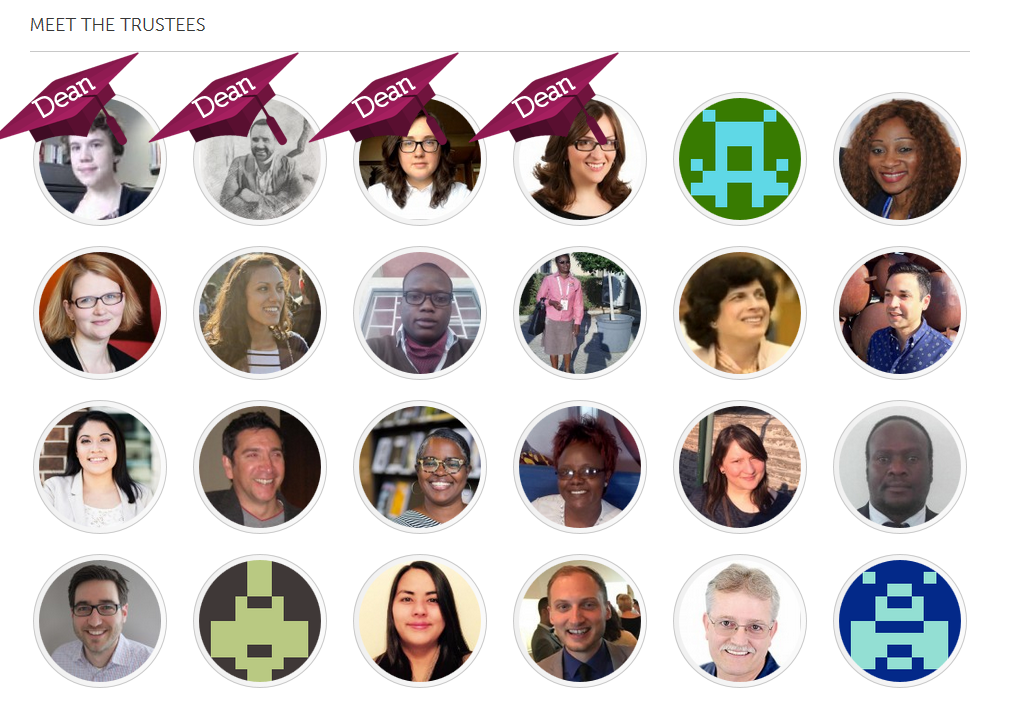 Other trustees include:
Sally Brazil, Chief, Archives and Records Management, The Frick Collection
Sophie Bussman-Kemdjo, Director of the African Law Library, a core program of the African Innovation Foundation
Kate Byrne, Repository Platform Product Manager, Symplectic
Priya Charry, Librarian, Boston Public Library
Kayode Sunday John Dada, Librarian, Ahmadu Bello University
Ellah Diba-Khani, Librarian, University of Botswana
Lenore England, Assistant Director, Electronic Resource Management, University of Maryland University College
Miguel Figueroa, Director, ALA Center for the Future of Libraries
Sheila Garcia, MLIS student, Wayne State University
Michael Gutierrez, Reference & Research Services, New Mexico State University
Lareese Hall, Library Director, Rhode Island School of Design
Purity Kavuri-Mutuku, Senior Librarian at Nakuru Public Library
Stephanie Kays, Fine Arts Librarian, Denison University
Jerry Mathema, College Librarian, Masiyephambili College
Andrew Nagy, SaaS Product Leader, EBSCO
Anna Naruta-Moya, Project Director of the Indigenous Digital Archive, Museum of Indian Arts and Culture
Amber Painter, Southwest Regional Coordinator, Indiana State Library
Mark Robison, Research Services Librarian, Valparaiso University
Roy Tennant, Senior Program Manager, OCLC Programs and Research
Laura Zeigen, Assistant Professor and Liaison Librarian, Oregon Health & Science University
This initiative was incubated within the Innovation within LIS Committee of Library Pipeline, a grassroots, volunteer-driven initiative dedicated to supporting structural change in librarianship by providing opportunities, funding, and services that improve the library as an institution and librarianship as a profession. After conducting an environmental scan, the committee identified both challenges and opportunities in growing an innovation culture within library and information science that include: funding, infrastructure, diversity, and inclusivity. As a corollary, the committee created recommendations for strengthening innovation in each of these areas. Under the leadership of Stacy as Board Chair, each committee was tasked with launching a "minimum viable project" that would pilot an idea suggested in their environmental scan. As a result, two projects have launched: the Green Open Access Working Group, coordinated by the LIS Publications Committee, and the Innovation in Libraries initiative.
Why We Are
Whereas some see crowdfunding as a potential replacement for existing long-term funding mechanisms, especially in cultural production, we see crowdfunding as an opportunity to experiment on a small scale, creating a first step for projects that fall outside of mainstream funding models for myriad reasons. Most ideas, at the point of illumination, are not always scaled to the size of an IMLS or Knight Foundation Grant. It's the micro ideas, the ones that might be small but could build

into something bigger if it only had a little bit of support and funding, that we want to encourage and incubate. In this spirit, our application process is simple and succinct, with a focus on minimizing the time between the "tell us about your project" and the "do your project" phases. Moreover, the Innovation in Libraries initiative is a tangible outgrowth of the Library Pipeline's ethos: be dedicated, embrace risk, and trust the process. Ultimately, membership in Library Pipeline is not just a line on one's CV; it's a commitment to building community, growing as a professional, and putting in work on ideas and projects that matter.
If your interest is piqued by the Innovation in Libraries grants, send us your innovative, creative, and risky ideas.
If you are interested in becoming a trustee or sponsoring an Innovation in Libraries initiative, please send us an email: libraries@awesomefoundation.org
If you are the type of library professional who is interested in "less talking, more doing," we invite you to join us at Library Pipeline and grow our grassroots organization.
For news and updates on Library Pipeline and any of our projects, you can follow Library Pipeline, the Innovation in Libraries Awesome Foundation Chapter, or the #GOAWG hashtag on Twitter.
Acknowledgements:  Many thanks to our internal reviewer for this article, Amy Koester, and to publishing editor Annie Pho. We would also like to thank the dedicated and generous trustees and sponsors who made the Innovation in Libraries AF Chapter a reality and the impatient optimists who make Library Pipeline hum.