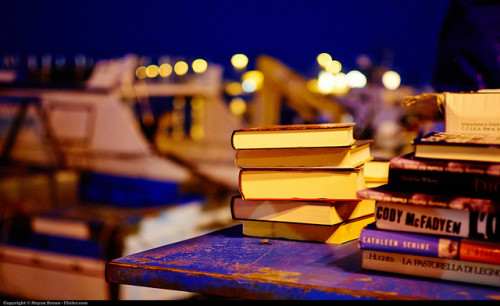 Photo by Flickr user Moyan_Brenn of Moyan Brenn Photography (CC BY 2.0)
Editors from In The Library With The Lead Pipe are taking a break from our regular schedule to share our summer reading favs. Tell us what you've been reading these last few months in the comments!
Hugh
It is, of course, winter where I live. This makes it a great time to curl up with a nice big fat tome, and I have been spending the long winter nights reading Peter Watson's The great divide: history and human nature in the Old World and the New. Watson takes the reader on a journey from 15,000BC through the Great Flood, following the first humans across Eurasia and through the rise and fall of empires until the Conquistadors appeared. He explains how, according to our best guesses, humans came to be in the Americas, when it happened, and why the new world they found there led the Americans in such a different direction to the 'old world' of Eurasia. This is a fascinating book in many ways. Covering archaeology, religion, botany, geology and very ancient history, Watson attempts to explain why the pre-Columban Americas had such comparatively short-lived civilisations, bloody religions, and localised cultures.
Ellie
I've recently joined a mini book club with my brother and a few of our friends who are also Marvel Unlimited subscribers. Our rough plan is to choose arcs that are completed in 6 issues. Several of us have a tendency to spiral off though. So far we've done Longshot Saves the Marvel Universe (2013), Rogue (2004), Young Avengers (2005), and Deathlok (2014). Young Avengers in particular spiraled off into the whole 12 issue run as well as Truth: Red, White & Black (2003) which linked up nicely but came from a separate Twitter recommendation.
I've also nostalgically torn through everything Rogue and Gambit, which lead to meeting Pete Wisdom and exploring New Excalibur (2005). And I'm devouring the recent spate of female leads: Captain Marvel (2014), Ms Marvel (2014), Thor (2014), and The Unbeatable Squirrel Girl (2015). The metadata in Marvel Unlimited is awkward and the coverage can be spotty, which leads to lots of online searching to figure out what to read next. I'm grateful for friends who can share tips such as, "For further reading I suggest Avengers Children's Crusade which is basically issues 13+. Issue 4 has its own separate entry on Marvel Unlimited for no reason, and Avengers Children's Crusade Young Avengers is by the same author and comes between issues 4 and 5."
Annie
The summer here has flown by pretty quickly. I'm beginning a research project for an upcoming book, The Feminist Reference Desk, edited by Maria Accardi, so I've been doing a lot of reading to prep for that. The article that I'd really recommend everyone read is  Library Feminism and Library Women's History: Activism and Scholarship, Equity and Culture by Suzanne Hildenbrand. It's really insightful and explains how gender roles impact our profession.
For more light reading, I have been reading Modern Romance the new book by Aziz Ansari and Eric Klinenberg. The research is interesting and Aziz is pretty funny. Last, I totally judged a book by it's cover and started reading The Woman Destroyed by Simone de Beauvoir. So far I've only read the first story, but I'm not sure how I feel about it. I hope everyone had a good summer!
Bethany
This summer I haven't done my due diligence in the reading department. I always have a mental list of books to read based on people's recommendations, but there are never enough hours in the day to get through everyone's great suggestions! During my road trip to Indiana University Libraries Information Literacy Colloquium in August, I listened to a book on CD, which is my absolute favorite way to read. It was Jodi Picoult's gripping novel Change of Heart. Always exploring controversial topics through fiction, things unravel at the beginning of Picoult's novel when a woman's husband and child are brutally murdered. The plot thickens as the death row inmate who committed the murders seeks to bequeath his heart to a little girl in need of a heart transplant. Not just any girl, but the biological daughter and sister of the victims murdered. The novel forced me to consider a new twist on an already uncomfortable subject.
Erin
For the first time since I was a kid, I'm using the public library to borrow books again. I know that's such a bad librarian thing to admit, but since I worked in academic libraries, I got everything I needed through the school. Using my public library has been… interesting. It's fascinating to see things from the strictly-patron side again (and that's a whollllle different Lead Pipe article)! I've been devouring books lately. Some of my favorites have been Miguel Street by V.S. Naipaul, All My Puny Sorrows by Miriam Toews, and Geek Love by Katharine Dunn. I flew through The Paris Wife by Paula McLain (yeah, I'm a couple years late on that one) and I was totally surprised/disturbed by Sarah Waters' Fingersmith. I'm in the middle of CA Conrad's Ecodeviance and I'm about to start Emily Gould's Friendship. I've also been reading some books about Minnesota history/culture and rocks/minerals specific to Lake Superior, since that's where I'm living now!
Ian
Discussing summer reading makes me a little nervous. Since I joined Twitter about a year and half ago my book reading markedly declined. At the same time my eyesight deteriorated and my child became a toddler. Whatever combination of factors may have prompted it, the fact is that I read fewer books than ever before. My overall reading, however, has not been reduced, principally because Twitter (for me this means mainly 'library Twitter') is directing me daily to various news articles, journal articles, blog posts, websites, and other shorter-form writing that absorbs most of my reading time on any given day.
Yet I did find the time for at least ONE book this summer! I am working on a project tracing the careers of German academic librarians through the turbulent decades of the mid-20th century. For this research I read a book of essays about Austrian women librarians who confronted persecution under the Nazis and were either forced into emigration, imprisoned, persecuted, tortured, or even murdered. Entitled "Austrian Women Librarians on the Run: Persecuted, Suppressed, Forgotten?" [Ilse Korotin, ed., Österreichische Bibliothekarinnen auf der Flucht: vefolgt, verdrängt, vergessen? Wien: Praesens Verlag, 2007.], this small book contains a rich trove of remarkable and often harrowing stories of women librarians who found themselves forced out of their jobs and their homes before and during World War II. Of particular interest to me was how the political commitments of many women were strengthened by the experiences of persecution, expulsion, and exile. Many of those who survived the war and the Holocaust saw librarianship as an integral part of their struggles against racism and sexism, and their commitments to social justice.
Lindsey
Over the last couple of years, I've gotten back into reading real-life books, and it has been wonderful. Some distant friends started a sci-fi/fantasy book club, and it's gotten me back into reading. We used to meet monthly via Google Hangouts from our varying locations (the power of technology!), and I've recently joined up with another book club that's in-the-flesh. In the meantime, I've been enjoying some easy escapist reading. Most recently, I finished The Curious Incident of the Dog in the Night-Time by Mark Haddon. Finding his neighbor's dog dead in the front yard (and this is how the book opens, y'all), young Chris decides to do some detecting in order to find out whodunnit. Mayhem ensues, of course.
My favorite book of the summer though has definitely been Magonia by Maria Dahvana Headly. I became obsessed with the unique, otherworldliness of this book. Reading sci-fi and fantasy, I sometimes find it difficult to escape recurring themes and common tropes. What I liked most about this one was that it blew all of that out of the water. I'd never experienced a world like Magonia before, and I loved that.